Field Day is a real estate development consulting firm that helps people who are not real estate experts manage their projects. We know how to guide you from concept, through construction, and into operations—on time, in budget, and with ease.
Founded in 2010, we are a 100% woman-owned business. We work with developers,
nonprofits, foundations, business owners and government agencies.
Our business is built on the belief that a big real estate project can be a rewarding experience, rather than a stressful one. We're invested in your success and we give it our all to get the job done. You'll be in good hands, because it's what we do every day!
ANDREA KATHOL, Owner
Andrea Kathol has more than 15 years of experience in real estate development, financing and community development. She has been responsible for high-dollar budgets and transformational projects. She knows real estate development inside and out.
Eternally focused on the end result, Andrea refuses to get distracted by roadblocks. So whenever the sure-to-come surprises pop up, she keeps a level head with friendly finesse. Her clients say she's a life-saver, that they couldn't have done their projects without her.
Education & Certifications:
Bachelor's Degree in Interdisciplinary Social Science
Master's Degree in Public Administration
Housing Development Finance Professional Certified, NDC, 2009
Economic Development Finance Professional Certified, NDC, 2010
Recognition & Community Engagement:
Board Member of Restoration Exchange Omaha
Board Member of Spark Omaha
2019 WCA Tribute to Women Award Recipient
2022 Omaha Jaycees TOYO! Award Recipient
COURTNEY BREWER, Director of Operations
With over 17 years of experience in business operations and marketing in both the nonprofit and for-profit sectors, Courtney's skills range from graphic design and communications to project management and business strategy.
With top strengths such as Strategic and Individualization, Courtney not only takes ownership of her projects, but strives for excellence through creativity, resourcefulness, and perfection. Her conscientiousness and impeccable ethics combine to create a reputation of being utterly dependable. If there's a better and more efficient way to do something, Courtney will find it.
As a trained facilitator, Courtney has led community public health strategy efforts to bring together stakeholders, partners, funders, and residents to address key priorities such as mental health, safe communities, healthy housing, access to food, and healthy kids. She brings her expertise to our projects by fostering trust through relationship building, clear communication, and effective collaboration.
Education & Certifications:
Associate's Degree in Graphic Art & Design
Bachelor's Degree in Multidisciplinary Studies (In Progress)
Great Plains Leadership Institute Class 15
Trained in ToPs Facilitation Methods
EMILY MEYERS, Executive Coordinator
As Field Day Development's Executive Coordinator, Emily does more than schedule meetings. With more than 10 years of administrative experience, she's helpful, organized, and task driven. She strives for perfection, and loves going the extra mile on the little details that make things special.
With Restorative as a top strength, Emily often finds herself thinking "I could figure that out." This comes in handy daily at Field Day Development. In her time here so far, Emily has fixed a broken lateral file, sold 2 cars, and picked a lock (with permission).  She is excited to see what new puzzles each day brings.
In addition to her work at Field Day, Emily is a key member of the Maha Festival production team. In this role, she prepares and plans the festival year round, communicating with tour managers, performers, security and stage technicians to ensure the safety and comfort of artists and their crews.
When she's not taking care of Field Day, Emily enjoys eating cheese pizza with her boyfriend, Neil, shopping at estate sales with her family, and going on walks with her rescue dog, Curry.
SARAH DOTY, Project Manager
Sarah Doty brings 18 years of construction and real estate experience to Field Day Development. What started as a part-time college job in a construction office turned quickly into a long-term career. Helping others fuels Sarah's fire, and providing project guidance to her clients is her passion.
No project is the same, and Sarah's ability to lead, collaborate and analyze are all keys to the success of any project she works on.  With an innate love for learning and a solution-oriented mindset, Sarah will go above and beyond to provide her clients with the answers and resources they need as their projects progress.
Continuous improvement, kindness, loyalty, and inclusion are some of Sarah's personal values that she incorporates into her work every day. She offers space for each client to explain their end goals and does everything she can to help them achieve them. Sarah advocates for our clients based on the belief that every voice is meant to be heard.
Education & Certifications:
Bachelor of Science Degree
Project Management Graduate Certificate (In Progress)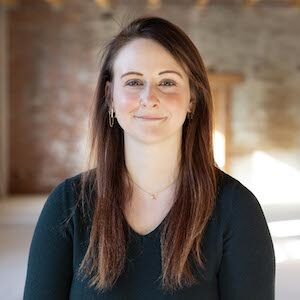 REBECCA BELLOWS, Project Coordinator
Rebecca Bellows has passion for real estate that comes from a childhood interest in historic properties, which led her to enroll at The University of Nebraska at Omaha to study Real Estate & Land Use Economics. After graduating from The University of Nebraska at Omaha in 2015, she secured a position as a residential appraiser trainee, eventually becoming a Certified Residential Appraiser in 2019.
As a result of her years of real estate experience, Rebecca has learned to solve complex problems with creative solutions by being able to examine the details while keeping the big picture in mind. Likewise, she enjoys challenges and finds satisfaction with a job well done. She takes great pride in being authentic and reliable.
In her free time, Rebecca can be found reading a book or spending time outdoors with her family. As a self-professed foodie, one of her favorite hobbies is making her way around Omaha's bar and restaurant scene.
Education & Certifications:
Bachelor of Science in Business Administration
Certified Residential Appraiser